OSD 57: Introducing OSD office hours
Onboarding the tidal wave of new gun owners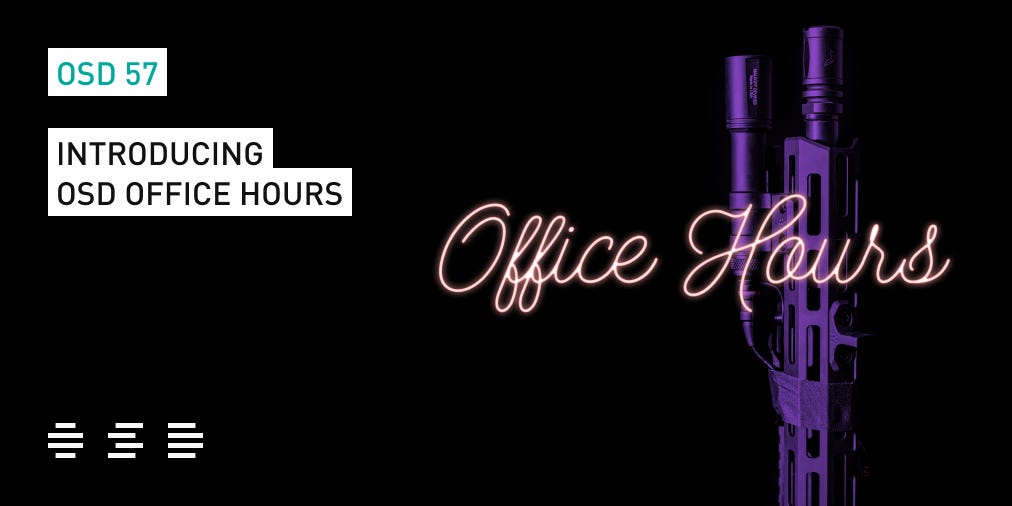 A tidal wave happened this week: gun sales are through the roof. We go into more detail in "This week's links" below, but gun stores throughout the country were selling through their entire inventory. Newsweek reported NICS checks up 300% year-on-year. @2Aupdates pointed out this reddit post: "For those who can't fathom how much buying has been happening, maybe this will put it in perspective: Thanksgiving -> December 31st last year (holiday season including Black Friday) our store did less business on guns and ammo ($229k) than the last 10 days ($240k) and business is not yet slowing."
Here's the point: this week, we might have just had the single biggest influx of new gun owners in modern history. And right behind them, there are probably an equal number of people on the fence, just a few questions away from taking the plunge.
As a community, we all now have a job: make these newbies feel welcome, and equip them with the skills and knowledge to make them into a safe and happy next generation of gun owners. If we do that right, this wave of newbies will soon themselves become good ambassadors who help train up the wave that comes in behind them. And so on. (This is exponential spread — if each owner creates >1 additional new owners, the curve goes hockey-stick real fast. Hmm, rings a bell, feel like we've heard about this dynamic recently…)
OSD office hours
To help do this right, we're trying something new: OSD office hours. It's a 30-minute video chat with a member of the OSD team, designed for any new gun owners or gun-curious people who want a friendly place to ask questions. We'll hop on a Zoom with you to answer your questions and to point you to the best resources to keep learning.
If you know any new gun owners, anyone thinking about becoming a gun owner, or if either of those describe you, use this link to book a video chat with us: https://calendly.com/opensourcedefense/office-hours
This time — literally, the next few days and weeks — is an opportunity to give an unprecedented number of people a fun, positive, and empowering introduction to gun culture. Let's bring our A-game. Make yourself available to educate people, and use our Office Hours as a resource to help.
Make it a great week, gang.
---
This week's links
We have a lot of extremely well-equipped people subscribed to this newsletter. That's awesome. If you have masks, gloves, or other PPE that you're able to spare, the best way to put that to use right now is by getting it to a hospital that needs it. You can find a hospital near you at the linked headline above, or fill out this form.
Illinois and Ohio specifically designated gun stores as essential, which has allowed them to keep operating through statewide mandatory business shutdowns. This is particularly notable in Illinois's case, where Gov. J.B. Pritzker, who made the decision, is otherwise a supporter of the standard gun control template laws.
Pennsylvania and New Jersey have shut down their background check systems by order of their governors. California hasn't officially spoken on guns, but the statewide order that the 40 million residents stay in their homes except for essential services would seem to leave FFLs shut down.
That's all a long way of saying something simple: in these states, every legal way to buy a new gun has been banned. Via executive action. Indefinitely.
Jon Stokes said it well:
These moves — as well as waiting periods and certification programs that are preventing people from getting guns in the middle of an ongoing emergency — are damaging in the near-term, but long-term are a compelling case study on these laws. A lot of people walked into gun stores this week and were dismayed to find that laws they'd previously supported were blocking them from buying a gun. That's a powerful education.
Update: late last night, news broke that the Pennsylvania Supreme Court rejected an emergency request to block the state's de facto ban on gun sales. Josh Blackman writes it up at the Volokh Conspiracy: "Justice Wecht closes [his dissent] with a very pragmatic solution: allow some reasonable manner for the people to exercise their rights. Let gun dealers follow the same hygiene standards as other essential businesses that can remain open. For example, gun dealers must remain six feet apart from gun buyers. The gun must be wiped down with a Lysol wipe. Etc. There are ways of managing these transactions responsibly. And the existence of a constitutional right requires some form of narrow tailoring."
Also check out Adco's Facebook post and a reddit post from a Missouri FFL.
Good stuff from T.Rex Arms.
A primer for people looking to ramp up.
---
If you like this newsletter, you can donate to OSD instantly on our Buy Me a Coffee page. Donations aren't our biggest funding mechanism, but they are a dead-simple way to kick in a few bucks to help us keep growing like crazy.