OSD 64: Read owner's manual before use, do not use to attempt Venezuelan coup
Putsch will void warranty.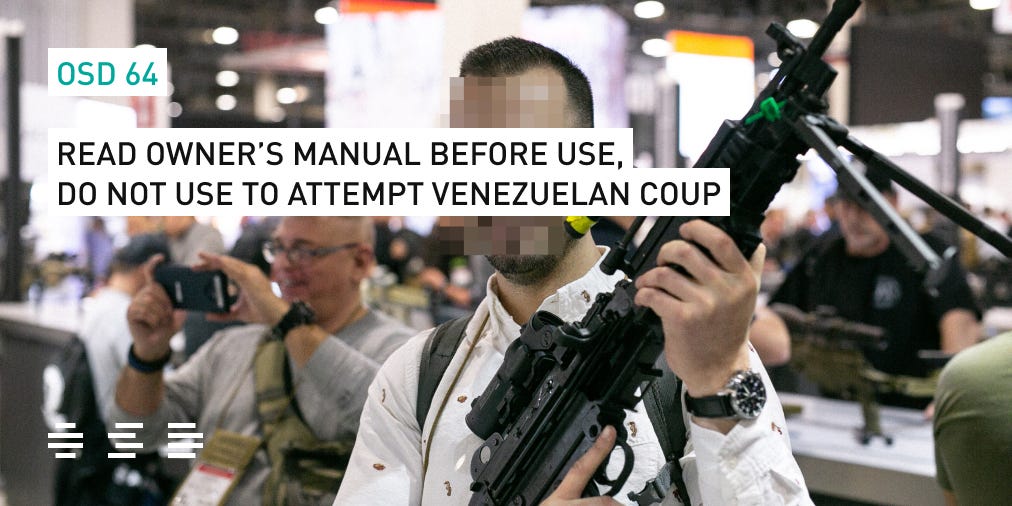 This week's links
This is what it's all about (and note how pivotal it is to have great YouTube content out there for newbies to onboard with):
I would absolutely consider myself to be politically progressive and I was fully in favor of strong gun control laws before doing any research into gun ownership. My wife mentioned off hand one day it would be fun to go shooting so out of curiosity I started looking into gun ownership and it completely snowballed from there into hours of hickok45 and Paul Harrell videos and I went from having no knowledge of guns or how they function to at least having a basic understanding of the mechanics behind firearms and the differences in calibers.

Now I'm suddenly questioning my previously strongly held political beliefs as I used to favor strict gun laws but now I see that as an uninformed opinion that was not based in reality.

When I ordered my firearms online from my local gun store, I had to make a specific appointment to come pick up my stuff due to COVID-19. As I was waiting outside the store with the others who had the same appointment time, I realized the other customers were not all right-wing sociopaths with delusions of civil warfare. They were actually just all "regular" people of all different races, ages, and backgrounds who wanted to purchase firearms and firearm accessories.
Good sub for newbies.
arnoldhandshake.gif
The roller-coaster course of events behind the Fyre Festival of coups.
---
If you're a new gun owner, thinking about becoming one, or know someone who is, click here to come to OSD Office Hours. You get a 30-minute video call with an OSD team member to ask any and all questions you have, in a friendly, non-judgmental space. For free. So come on by!
---
If you like this newsletter, you can donate to OSD instantly on our Buy Me a Coffee page. Donations aren't our biggest funding mechanism, but they are a dead-simple way to kick in a few bucks to help us keep growing like crazy.