OSD 68: The circle is getting bigger
More gun owners. A lot more.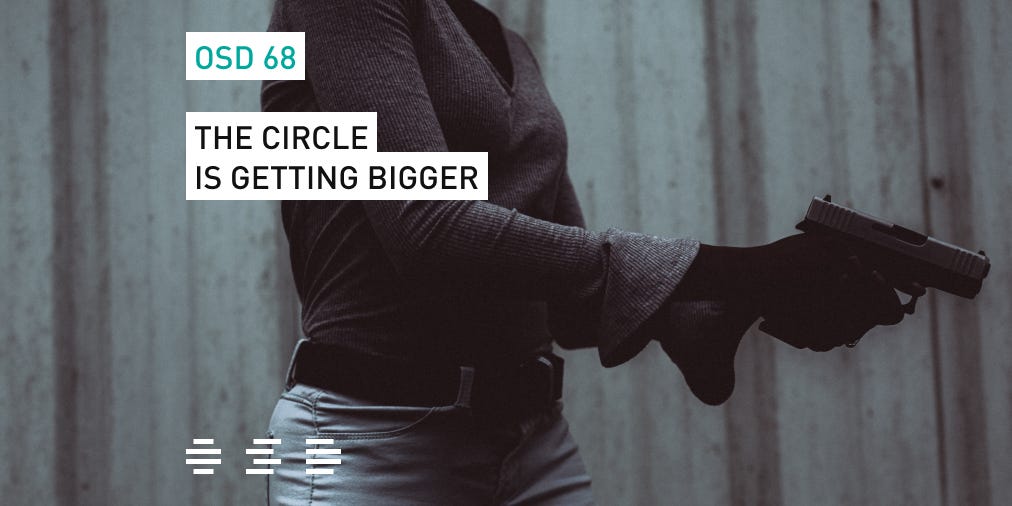 The past seven days have been some tough ones. In last week's email, we linked to a set of positive stories — people doing good and helping each other out, positive interactions in the protests, etc. With plenty more protests came plenty more of those we could link to (amidst plenty of negative stuff we could also link to), but getting back to guns, it's been cool to see people waking up to an idea that's just starting to enter mainstream culture: that gun rights are for everybody.
The picture of who's into guns, and why, has changed dramatically this year, and only accelerated these past couple weeks. We could write more on that (and will soon), but Killer Mike put it best in his recent op-ed in Colorlines:
… my message to Black people across the country is the same today as it was a year ago: the only person you can count on to protect yourself and your family is you. God gave you the right to use whatever tools are available to defend your rights. Nothing—including gun ownership—should be discarded. I encourage gun ownership to my wife, my son and daughters, your sons and daughters and all Black people. I wish the Black woman in Baltimore, Korey T. Johnson, who was recently chased and followed by a deranged brother, had a gun to protect herself. She found no safety at a hotel or from the police. My heart goes out to her and her running buddy. ­

The challenge is for Black people, Black media and allies to normalize gun ownership. We should be highlighting and showcasing responsible gun owners. We should be looking to Black organizations such as the National African American Gun Association, which offers firearms training, self-defense training and other services. They understand the cultural nuances of gun ownership and speak directly to our needs. We should be looking to people like Marchelle "Tig" Davis, a Black woman who owns My Sister's Keeper Defense and teaches women how to shoot, stay safe and defend against threats. We should also be considering the perspective of people like attorney Colion Noir, who is a gun rights advocate with a plethora of online resources ranging from reviews of firearms, commentary on gun laws and educational content. We should also be talking about Black Freedom Fighters (see Harriet Tubman, Ida B. Wells, Malcolm X, Deacons for Defense and Justice, Robert Williams, etc.) who embraced gun ownership and protected their families and community in the process. Even the Rev. Martin Luther King Jr. applied for a concealed carry permit in 1956.

To go one step further, some even speculated that the gun ownership was central to Black people and their supporters surviving the sixties.

Instead, when it comes to Black people, much of the narrative around guns is associated with gun violence in Black and poor communities. I empathize with people who have been traumatized because of gun violence. I feel for those whose only experience with guns has been violent or negative. It is tragic and it is painful. But the narrative around guns and Black people must include the full range of experiences.

I want to challenge my community to seek out responsible gun owners and talk to them about why they chose to arm themselves. Further, even as groups attempt to reduce gun violence, we should be careful not to villainize responsible and legal gun owners or people interested in gun ownership.

The last thing that any of us need is more laws that will criminalize us.
---
This week's links
What it is, and how it ratcheted tighter over a 12-year period to where it is today: a ban on selling any handgun released or updated after 2013.
An account of the shifting tides this year.
When a G36 and an AR-15 love each other very much…
Sad news. Looking forward to OP's documentary.
In last week's newsletter, we linked to video of the well-executed disarm. This week, the guard gives a first-hand account of how it happened.
Denied applicants include who was arrested (but not convicted) nine years earlier, and someone who was robbed 3.5 years ago, which wasn't recently enough for the NYPD's satisfaction: "Mr. Daniarov claims that he has 'proper cause' for a Carry Business handgun license because he was robbed at gunpoint on 7/30/15. Title 38, Section 5-03, however, states that 'the mere fact that the applicant has been the victim of a crime' does not establish 'proper cause' for a Carry license. Further, this incident occurred over 3 1/2 years ago and Mr. Daniarov has not been a robbery victim since then. Mr. Daniarov failed to establish that he is in extraordinary personal danger."
Also be sure to check out @2Aupdates's first court case database, tracking every case making a Second Amendment challenge from the Supreme Court all the way down to state trial courts.
Led by Jeremiah Ellison, a City Council member and son of Keith Ellison, the Minnesota Attorney General.
Quality post from /r/guns
From time to time, it's a good habit to take a few minutes on YouTube to watch videos of newbies shooting. Keeps you in touch with everything they're thinking about when they pick up a gun.
---
OSD Office Hours
If you're a new gun owner, thinking about becoming one, or know someone who is, click here to come to OSD Office Hours. You get a 30-minute video call with an OSD team member to ask any and all questions in a friendly, non-judgmental space. For free. So come on by!
---
Merch and coffee
We have a merch store. The stuff is pretty awesome. Check it out.
If you like this newsletter, you can donate to OSD instantly on our Buy Me a Coffee page. Donations aren't our biggest funding mechanism, but they are a dead-simple way to kick in a few bucks to help us keep growing like crazy.